N Scale GE AC6000 Locomotive withDCC & Sound Southern Pacific #600 BLI #6279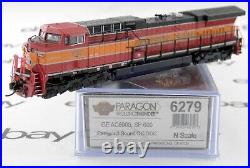 This is a brand new. Broadway Limited Imports N Scale GE AC6000 Locomotive with Factory Installed Paragon 3 Sound/ DC/DCC Decoder in the Southern Pacific Paint Scheme. The locomotive number is 600 (Item #6279). Meet the winner of the horsepower race: the GE AC6000CW with 6000 hp under the hood - thats more than the Big Boys were able to do. They are about 76 ft.
Long from coupler face to coupler face and are often run in pairs. On today's railroads, they are the king of the hill!
BLI is producing these monsters from GEs Erie, PA plant and our models do them justice. Our new Paragon3 N Scale AC6000s more than do their life-sized prototypes justice. ABS Body with Heavy Die Cast chassis for max. Features the ALL-NEW N Scale Paragon3 with Rolling ThunderTM SOUND & Control System (Rolling ThunderTM transmitter onboard). Integral DCC Decoder with Back EMF for Industry Best Slow Speed Operation in DC and DCC.
Precision Drive Mechanism engineered for continuous heavy load towing and smooth slow speed operation. Premium Caliber Painting with Authentic Paint Schemes. Prototypical Light Operation with Golden White LED Headlight, Rear Light. Minimum radius: 9.75 radius or greater recommended. Operates in DC & DCC (use DCMaster for DC sound). 1 alternate horn for locomotives with a second horn. 4 Times Expanded Autopilot storage. Expanded Startup and Shutdown sequences. 84 db signal to noise ratio. 24 sounds with separate volume control.
Unmatched frequency response as low as 20 Hz when paired with Rolling ThunderTM subwoofer kit. 8 simultaneously playable audio channels.
Functional Dynamic Brake with Grid Blower sounds. Improved motor control in DC and DCC. Works with NMRA standard DCC controllers. Automatic Dual Mode: Works with DC power packs or DCC.
A great addition for any N scale enthusiast & m. However, we may not be able to identify all defects. Please visit us at: Hobby Time Hobby Shop. The difference often varies 24 hours or more.
Once an order has been processed it cannot be canceled.