Broadway N-Scale 9088 EMD F7A, PRR 9699A DGLE SINGLE STRIPE NO-SOUND / DCC-READY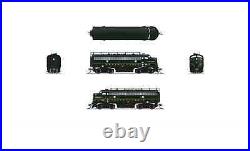 9088 EMD F7A, PRR 9699A, DGLE SINGLE STRIPE, NO-SOUND / DCC-READY. This N Scale Stealth Series EMD F7A from Broadway Limited is based on the 1,500 horsepower diesel locomotive built by General Motors' Electro-Motive Division between 1949 and 1953. The F7 primarily differed from the F3 in internal equipment, but there were some noticeable external changes such as the grills and the dynamic brake hatches. This Stealth Series no-sound/DCC-ready model operates on DC out of the box, or a modeler can easily install their DCC decoder of choice.
Out of the box, front and rear lights are directional, and other lights are always ON with track power. Additionally some lighting functions may be missing depending on selected aftermarket decoder the modeler installs.
This model includes an NEXT18 18-pin decoder socket so you can add your favorite DCC or sound decoder when you're ready. It also features a built-in speaker so you won't have to add one later.
Other features include a heavy die cast chassis and select roadname-specific details. Its wheels are profiled to operate on Code 55 and larger rail and curves of 9-3/4 radius but larger curves are recommended.