Broadway N-Scale 7738 EMD F3A, SP 337, BLACK WIDOW, PARAGON4 SOUND/DC/DCC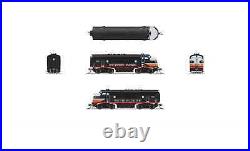 7738 EMD F3A, SP 337, BLACK WIDOW, PARAGON4 SOUND/DC/DCC. This N Scale EMD F3A from Broadway Limited is ideal for your 1940s to 1980s layout! The prototype 1,500 horsepower EMD F3 is a diesel locomotive built by General Motors' Electro-Motive Division between 1945 and 1949. The F3 was the third model in EMD's successful F-unit series of cab unit diesels, and it was the second most produced of the series behind the F7.
This detailed EMD F3A model features full Paragon4 sound and DCC for realistic sound and motor control. The Paragon4 sound system works with all Broadway Limited Rolling Thunder(TM) advanced sound systems. Other features of this locomotive include a heavy die cast chassis, smooth-running flywheel-equipped drive, directional lighting and magnetic knuckle couplers. It can be operated on all DCC systems as well as on standard DC railroads (with limited sound functionality). It has wheels profiled to operate on Code 55 and larger rail and curves of 9-3/4 radius and larger are recommended.