Broadway Limited 7236 N Scale Union Pacific Big Boy Excursion #4014 Paragon 4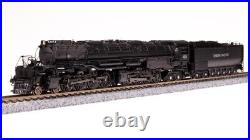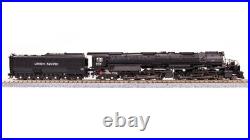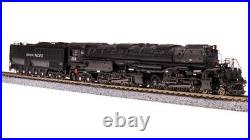 BROADWAY LIMITED 7236 N SCALE UNION PACIFIC 4-8-8-4 BIG BOY. THE BIG BOY TOUR "EXCURSION " MODEL. ROAD NUMBER 4014 (ALL PICS ARE WEB SHOTS FROM BLI). ALL ENGINES ARE NEW IN THE BOX. PARAGON 4 DCC, SOUND and SMOKE. BEFORE USING THE SMOKE IT IS VERY IMPORTANT TO WATCH THE VIDEOS ON THE BLI WEBSITE ON HOW TO OPERATE THE SMOKE. IT IS VERY IMPORTANT THAT ONLY "LIGHT" SMOKE FLUIDS BE USED. NOT EVEN THE BROADWAY LIMITED SMOKE FLUID CAN BE USED. ONLY THE FLUID FROM THE FOLLOWING COMPANIES CAN BE USE. Paragon4 Sound & Control System featuring ROLLING THUNDER.
Integral Dual-Mode Decoder with Back EMF for Superb Slow Speed Operation in DC and DCC. Precision Drive Mechanism Engineered for Heavy Towing and Smooth Slow Speed Operation. Operating Smoke Unit with On/Off Switch. Six Drivers and All Tender Wheels Pick-up Electricity from Track.
Die Cast Locomotive Body with Die Cast Chassis for Heavier Weight and Maximum Tractive Effort. Rubber Tires on Two Drivers for Additional Tractive Effort. Prototypically Accurate Paint Schemes and Road Numbers.
Many Separately Applied Details such as Handrails, Grab Irons, Piping, Tender Ladders, Whistle, and Bell. Prototypical Headlight and Rear Light Operation.
Prototypically Accurate Sounds for the Union Pacific Big Boy. Will Operate on Code 55, Code 70, and Code 80 Rail. Minimum Operating Radius: 9.75 inches. Operates in DC & DCC with improved DC speed control (use DCMaster for DC Sound). Built-In extra capacitance to navigate imperfect track.
Pro Lighting Mode offers individual control of all lights on model. Switcher Mode for precise low speed control. Record & Play Operation - Records and plays back sounds and movements once or repeatedly for automatic operation.
Quillable Horn for various whistle lengths and patterns. Choice of 3 selectable Horns. Alternate Whistle / Horn where applicable for locomotive with air horn and steam whistle - both the main whistle and alternate can be easily played. Adjustable bell ringing interval for faster or slower bell.
Numerous user-mappable functions with available keys. Multiple realistic passenger and crew sounds play on command.
Automatic Forward / Reverse Signal. Prime Mover sound intensity varies with load. Individually adjustable sound volumes for each effect. EZ Reset Button for quick return to factory default settings.
THEN ASK FOR AN INVOICE. WE HAVE NO CONTROL OVER THIS ISSUE.
SIGNATURE REQUIRED WILL BE USED FOR EXPENSIVE ITEMS. ITEMS ARE ROUTINELY WRAPPED IN BUBBLE WRAP AND PROTECTED WITH PEANUTS.
THE EASIEST THING IS TO ADD THE ITEMS TO YOUR CART AND ASK FOR AN INVOICE. READY TO ROLL IS AN AUTHORIZED MTH, LIONEL LGB, PIKO, ATLAS, BROADWAY LIMITED, KATO, ATHEARN, WALTHERS, AND EVERY OTHER MAJOR BRAND, FULL LINE BRICK AND MORTAR MODEL TRAIN STORE SERVING ALL YOUR NEEDS SINCE 1991. OUR STAFF MEMBERS ARE LONG TIME MEMBERS OF THE TCA. WE ARE ALSO THE DESIGNERS AND BUILDERS OF THE MTH SHOWROOM LAYOUT LOCATED IN COLUMBIA MD. READY TO ROLL IS LOCATED IN MIAMI FLORIDA. PLEASE STOP BY ON YOUR NEXT VISIT TO SOUTH FLA. YOU WON'T BE DISAPPOINTED. PLEASE VISIT OUR OTHER LISTINGS FOR MORE GREAT TRAINS AT REASONABLE PRICES. WE TRY TO DESCRIBE AND POINT OUT ANY FLAWS WITH USED EQUIPMENT TO THE BEST OF OUR ABILITY. WE ARE LIMITED AS TO HOW MANY PICTURES WE CAN USE. WE ARE HUMAN AND SOMETIMES CAN MISS SMALL DEFECTS. NEW ITEMS ARE FULLY COVERED BY MANUFACTURERS WARRANTIES.
IN MOST INSTANCES WE CAN SOLVE ANY PROBLEMS BY COMMUNICATION, OR ADVISE THE BEST WAY TO FACILITATE REPAIR. READY TO ROLL, MIAMI FLORIDA.