BROADWAY LIMITED 7226 N N&W Y6b 2-8-8-2 2198 Blue 22I tender Paragon4 Sound DCC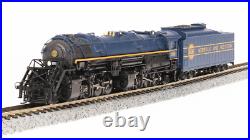 BROADWAY LIMITED 7226 N N&W Y6b 2-8-8-2 2198 1960's Blu 22I tender Paragon4 Sound/DC/DCC. 7226 N&W Y6b 2-8-8-2, #2198, 1960's Blue, 22I tender, Paragon4 Sound/DC/DCC, N SCALE (Fantasy Paint Scheme). N SCALE NOW WITH PARAGON4 & ROLLING THUNDER SOUND!!
The Y6b was known as the workhorse of the Norfolk & Western railroad. Starting with locomotive #2120 in 1936, the Y6 class would become the final refinement of the 2-8-8-2 design, and the Y6b is considered the epitome of the compound mallet development. The N&W shops in Roanoke, Virginia gave all Y Class engine and tender axles roller bearings and they used the same outside frame lead truck as the Class A. The trailing truck was also equipped with roller bearings which were fit into an outside frame design.
With these improvements, the Y6's cost considerably more than their earlier brethren, but the maintenance records show that these locomotives had a time available for assignment far superior to any of the predecessors. The Y6b had a starting tractive effort in simple configuration of 152,206 pounds. In the compound mode, a tractive effort of 126,838 was achieved.
The locomotives delivered 5,500 horsepower. The Y6b locomotive weight was 582,900 lbs with 522,850 lbs directly on the drivers. When the N&W ceased their mainline steam operations in 1959, 50 of the Y6s were still running out serviceable miles in the coal fields waiting for the final order of diesels to replace them. The last of the Class Ys were retired in the summer of 1960.
We are building five road numbers in the standard in-service paint scheme, and two models painted in fantasy paint schemes. The fantasy schemes are adaptations of prototypical N&W paint schemes, that were never applied to the Y6bs in real life, but look beautiful on the models. Industry-leading Model Features: ALL-NEW Paragon4 Sound & Control System featuring Rolling Thunder Integral Dual-Mode Decoder with Back EMF for Superb Slow Speed Operation in DC and DCC Precision Drive Mechanism engineered for continuous heavy load towing and smooth slow speed operation Die Cast Locomotive Body with Die Cast Chassis for Heavier Weight and Maximum Tractive Effort Rubber Tires for Additional Tractive Effort Prototypical Light Operation with Separately Controllable Headlight, Rear Light, and Cab Light Many Separately Applied Details such as Handrails, Ladders, Piping, Whistle, and Bell Operating Microtrains-compatible Couplers Will Operate on Code 55, Code 70, and Code 80 Rail Minimum Operating Radius: 9.75 inches Accurate Prototypical Sounds for the N&W Y6b 2-8-8-2 Engines Paragon4 Sound & Control System Features: Operates in DC & DCC with improved DC speed control (use DCMaster for DC Sound) Built-In capacitor pack to navigate imperfect track Capacitor Pack automatically disabled on program track for full compatibility with JMRI Decoder Pro Pro Lighting Mode offers individual control of all lights on model Switcher Mode for precise low speed control.
Record & Play Operation - Records and plays back sounds and movements once or repeatedly for automatic operation High Resolution Audio Quillable Whistle for various whistle lengths and patterns Choice of 3 selectable Horns Alternate Whistle / Horn where applicable for locomotive with air horn and steam whistle - both the main whistle and alternate can be easily played Adjustable bell ringing interval for faster or slower bell Numerous user-mappable functions with available keys Johnson Bar Sound at Direction Change Multiple realistic passenger and crew sounds play on command Grade Crossing Automatic Signal Automatic Forward / Reverse Signal - When activated, stopping triggers and stop whistle toot. When moving forward from a stopped position, toots twice. Chuff sound intensity varies with load (NO SMOKE FEATURE) Individually adjustable sound volumes for each effect EZ Reset Button for quick return to factory default settings Specifications on this page subject to change. THANKS FOR YOUR INTEREST IN OUR ITEMS.