BROADWAY LIMITED 3913 N SCALE EMD NW2 CGW 42 Paragon4 Sound/DC/DCC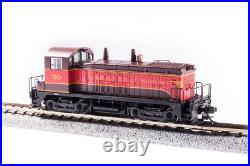 BROADWAY LIMITED 3913 N SCALE EMD NW2 CGW 42 Paragon4 Sound/DC/DCC. 3913 EMD NW2, CGW 42, Maroon, Red, & Gold, Paragon4 Sound/DC/DCC, N SCALE. N SCALE, ROAD # 42. N SCALE NOW WITH PARAGON4 & ROLLING THUNDER SOUND!! From February 1939 through December 1949, the General Motors Electro-Motive Division built 1,145 EMD NW2 1,000 horsepower switcher locomotives.
The NW2 was widely popular, with more than fifty Class 1 railroads purchasing more than 1,100 NW2's. The NW2's were EMD's new 12-cylinder, 567A prime mover. The NW2 was 44 feet long and equipped with the standard B-B truck arrangement. Typical distinguishing features of the NW2 switchers include two stacks in the middle of the hood, a half-height radiator grill on the front, no sand box on the front platform, no small louvers at the front corners, and the tops of the front cab windows are curved to match the curve of the roof. Our model is of the phase V locomotives.
The main difference between the Phase V and the Phase 1-4 NW2's is the slope of the long hood just ahead of the cab. Industry-leading Model Features: Paragon4 Sound & Control System featuring ROLLING THUNDER Integral Dual-Mode Decoder with Back EMF for Superb Slow Speed Operation in DC and DCC Precision Drive Mechanism Engineered for Heavy Towing and Smooth Slow Speed Operation All Wheel Electrical Pick-up Die Cast Body with Die Cast Chassis for Maximum Tractive Effort Premium Caliber Painting Prototypically Accurate Paint Schemes and Road Numbers Many Separately Applied Details such as Handrails, Grab Irons, Smokestacks, Horn, and Bell Dual and Single Headlight Options Accurate for Each Paint Scheme Prototypical Light Operation Metal Kadee-compatible Couplers (2) Will Operate on Code 55, Code 70, and Code 80 Rail Minimum Operating Radius: 9 inches Paragon4 Sound & Control System Features: Operates in DC & DCC with improved DC speed control (use DCMaster for DC Sound) Built-In extra capacitance to navigate imperfect track Pro Lighting Mode offers individual control of all lights on model Switcher Mode for precise low speed control Record & Play Operation - Records and plays back sounds and movements once or repeatedly for automatic operation High Resolution Audio Quillable Horn for various whistle lengths and patterns Choice of 3 selectable Horns Alternate Whistle / Horn where applicable for locomotive with air horn and steam whistle - both the main whistle and alternate can be easily played Adjustable bell ringing interval for faster or slower bell Numerous user-mappable functions with available keys Multiple realistic passenger and crew sounds play on command Grade Crossing Automatic Signal Automatic Forward / Reverse Signal Prime Mover sound intensity varies with load Individually adjustable sound volumes for each effect EZ Reset Button for quick return to factory default settings Specifications on this page subject to change. THANKS FOR YOUR INTEREST IN OUR ITEMS.