Athearn ATH15388 FP45 BNSF #97 Locomotive with DCC & Sound N Scale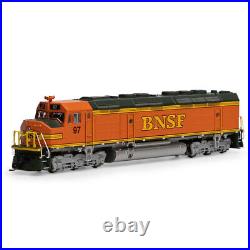 AIRCRAFT / VEHICLE / BOAT KITS. Grease / Lube / Oil. RADIO / RECEIVER / SERVOS. WHEELS / TIRES / RIMS.
Wheels / Rims / Tires / Sets. Bodies / Lights / Accessories. Electric Motors / Speed Controls. Accessories Glow Plugs, Temp Guns, etc.. Nitro Engine Parts Tune Pipes, gaskets, etc..
Adhesives / Fluids / Tools. Buildings / Bridges / Tunnels. Grasses / Trees / Scenery. Trains / Tracks / Sets. Accessories / Tape / Brushes. Paint - Aerosol / Spray Cans. Paint - Airbrush / Bottles. Athearn ATH15388 FP45 BNSF #97 Locomotive w/ DCC & Sound N Scale. Brand New In Factory Packaging.
PROTOTYPE INFO: By the early 1960's the Electro-Motive Division (EMD) was at a big disadvantage. Their 567 engine, in use for over 20 years, had reached it's peak at 2,500 horsepower in a turbocharged 16-cylinder version. EMD released a new 645 engine in 1966.
The most powerful locomotive using this series of engine was the SD45, powered by a 20-cylinder turbocharged 645E engine producing 3600 horsepower. EMD then offered the V20 645E engine in the SDP45 in a standard hood configuration and longer frame to occomodate the steam generator needed for passenger service. The EMD SDP45 was a good passenger locomotive, but to the Santa Fe Railway it did not look the part. EMD therefore designed a lightweight "cowl" body to cover the locomotive, though it did not, as in earlier cab units, provide any structural strength, which remained in the frame. The cowl provided sleeker looks, better aerodynamics at speed, and allowed the crew to enter the engine compartment en route for diagnostics and maintenance. Where the FP45 was an SDP45 wrapped in a full-width Cowl carbody, the new F45 was essentially an SD45 given the same treatment. We are an authorized dealer of every product we offer in our store. There are always ways to work things out to meet your satisfaction.
Top 10 Reasons to Shop At GoNitroHobbies. We are authorized dealers of all the items we sell and all products are brand new in factory packaging. We have been serving R/C hobby enthusiasts worldwide for over 9 years.
We aim to offer all of our customers with the best service to ensure their satisfaction is met. With thousands of satisfied customers around the world, check out our feedback and you'll see why customers prefer to shop with us. We offer a wide selection of products and carry a ton of brands to ensure our customers find what they're looking for. We insure that all orders are packed properly and delivered to your doorstop safely.